It's November and that means it is mystery quilt time with Bonnie Hunter.
This is my second mystery quilt and I cut my teeth last year on Bonnie's Roll, Roll Cotton Boll.
It was such a blast - No matter what - every Friday was MY sewing day.
Part 1 of Orca Bay was out on Friday.
If anybody wants to join in then here is the link :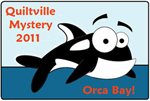 http://quiltville.blogspot.com/p/orca-bay-mystery.html
You can also find the link in my side bar - it will be sitting there for the duration.
Here is my progress so far ;
I'm a really going to enjoy this mystery because I have made some lovely quilty friends from all over the world and we are all doing it together, so it is going to be excellent to have people to compare notes with and also Bonnie has set up the link for bloggers. So who knows, I may even make more new friends or even get some new followers. Now that would be nice !!!
If I'm lucky enough to have Bonnie look at my blog, then just want to say thank you for everything you do Bonnie!!!
Til next time
Happy sewing
Rhianon